There are lots of jokes about traveling salesmen, but as today's Nice Price or No Dice Plymouth proves, the cars designed for such work were serious business. Let's see if this classic commercial coupe is priced to cut a deal.
The Plymouth Horizon is Just Another Hatchback of the '80s
The relating of any fantastical — or perhaps just dubious — story might be countered with the demand of "pics or it didn't happen!" Such tangible receipts are important in many aspects of life, especially so when used as proof of work done on any expensive car one is attempting to sell. That proved to be an issue for the seller of last Friday's 2001 BMW M5, as not only did they admit to not keeping the receipts for the work they claimed to have done on the car, but that loss extended to their memory of what all exactly had been done. That wasn't working for the majority of you and, at $23,500, the M5 went down in a 75 percent No Dice loss.
Speaking of work, a lot of us are doing it from home these days. That's a recent phenomenon born out of the pandemic, but according to news reports, it's a trend that few want to see reversed. Not everyone can work from home, of course. There was a time, in fact, when working meant packing up a car and heading out on the road. Traveling salesmen have been around forever, but their heyday here in the U.S. seems to have been in the 1940s and 1950s.
It was right around WWII that a special type of car was created specifically for this entrepreneurial enclave — the "Businessman's Coupe." With this model, automakers created a more commodious trunk by eliminating the back seat and extending the rear space forward in its place. This offered space for wares, displays, and samples in a car that was much more comfortable and economical to operate than a similarly capacious truck or van. If Del Griffith had been born a couple of decades earlier, he would have jonesed for such a car.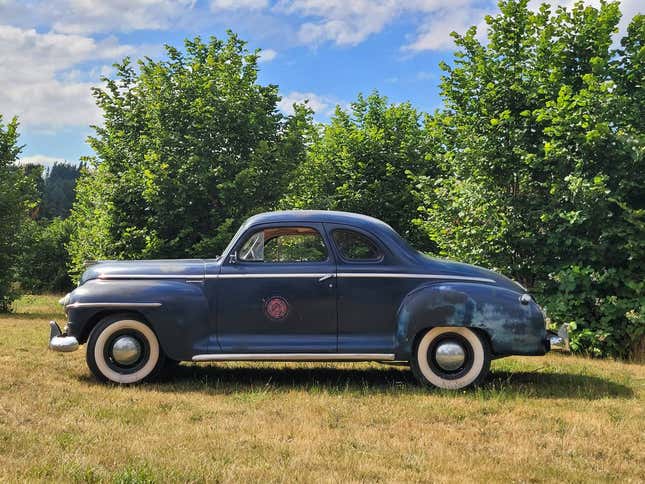 This 1948 Plymouth P-15 is a prime example of a Businessman's Coupe. From the outside, it looks like a standard five-light two-door, but a glance either in the cabin or under the trunk lid shows off its unique nature. That trunk space is absolutely massive, although some of that space would normally be taken up by the vertically-mounted spare which seems to have gone missing on this car. Also absent is any sort of weatherstripping on the trunk opening so it's probably best not to drive the car in monsoon season.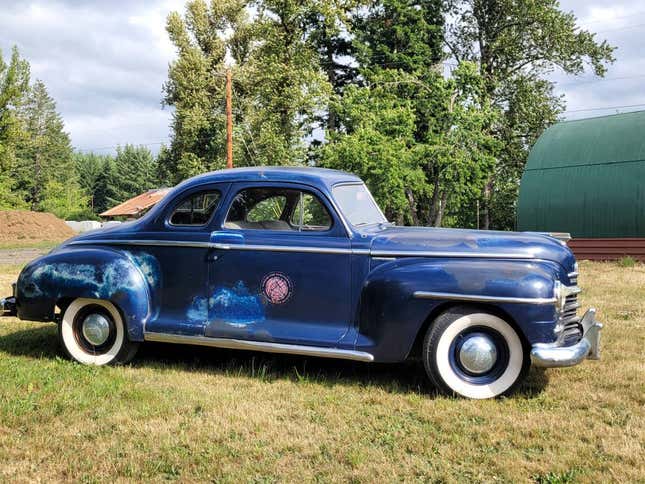 The paint is another issue. That has patinated to the point that it looks like it's reflecting a partly cloudy sky. Of course, in a car of this vintage, that might actually increase the car's visual charm so take it as you will.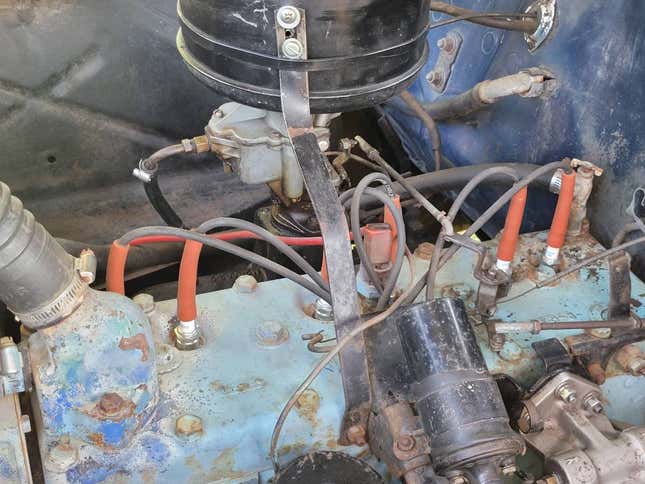 Mechanically, the car is a mixed bag. Under the hood, the Floating Power" L-head straight-six is said to have been rebuilt and to run "extremely well." With four mains and a modest 6.6:1 compression ratio, the 217.8 cubic inch engine is both fairly stout and assuredly under-stressed in offering its 95 (gross) horsepower. That's backed up by a three-on-the-tree manual with synchromesh found only on the top two gears. A newer clutch makes sure both the engine and transmission remain on speaking terms. On the downside, while the brakes — drums all around — are said to have been worked on several years ago, the seller warns that they need attention once again before being trusted.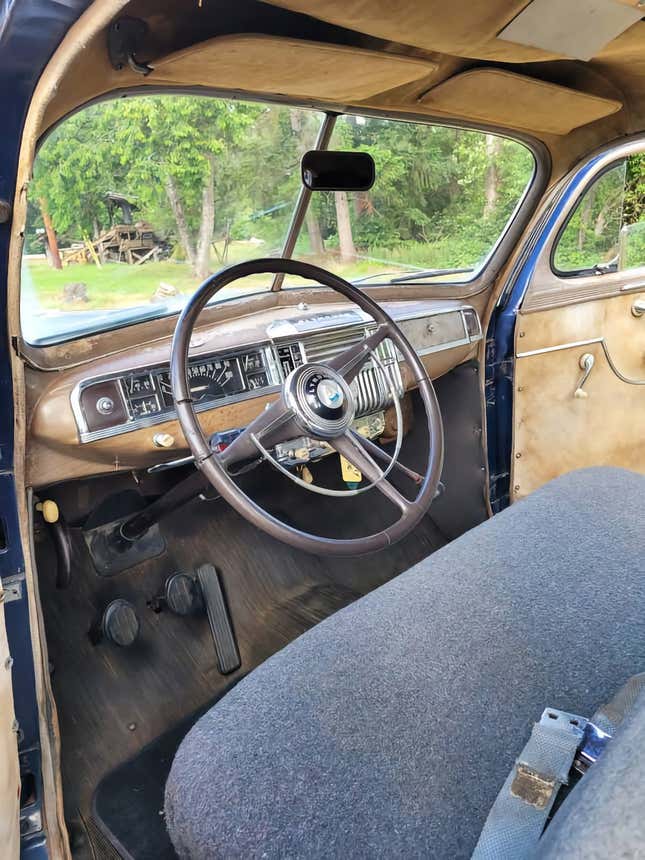 Other issues include a cracked window in the driver's door, a non-working radio, and the failure of one or more of the gauges. There's also some ballooning of the headliner above the seats. On the outside, there's a bit of rust creepy-crawling around the bottom of the passenger door, something the seller says a new owner might want to address. It's not all niggling little issues though, as the seller says the car comes with just a little over 75,000 on the clock and to carry a clean title.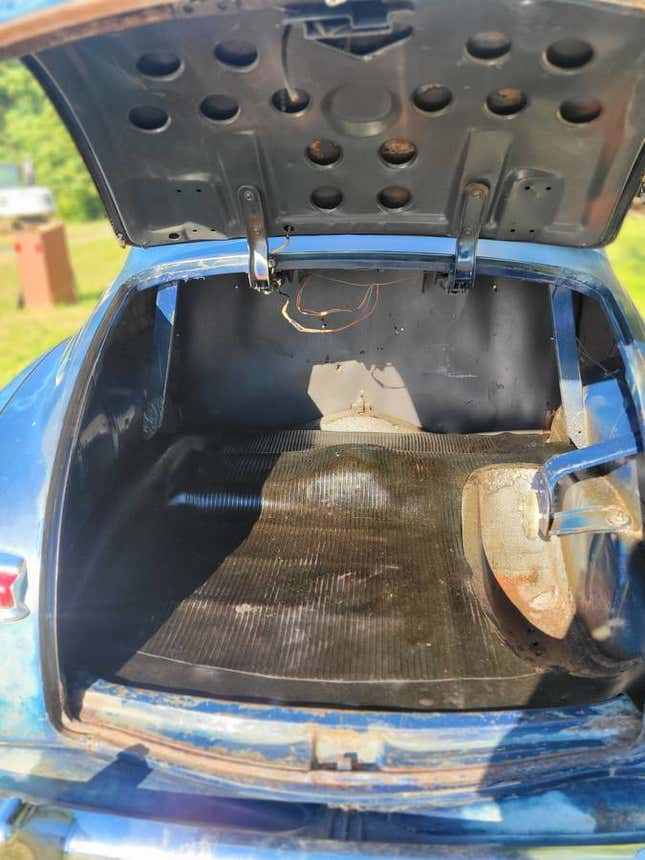 What might so interesting and serviceable a classic such as this be worth? The asking is $10,499, and it's now incumbent upon you to weigh in on whether or not that's a bargain.
What do you say, is this old Plymouth a deal at that price? Or, does the price put this Businessman's Coupe out of business?
You decide!
Portland, Oregon, Craigslist, or go here if the ad disappears.
H/T to John M. for the hookup!
Help me out with NPOND. Hit me up at remslie@kinja.com and send me a fixed-price tip. Remember to include your Kinja handle.